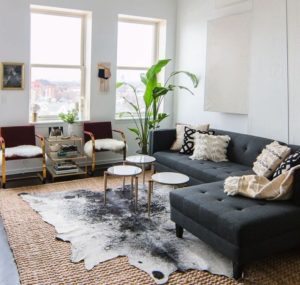 Rugs can be a great addition to any room. They provide color and texture and can become the focal point of the space, but choosing the right rug can sometimes be complicated. For decades, some of the most popular options have been cowhide rugs, and these days more and more people are turning to them for their rooms. We have some of the best reasons why cow skin rugs can be exactly what your home needs.
Easy to Clean
Cowhide rugs are easy to clean. They can be dusted much more quickly than a regular rug and can even be vacuumed to get debris out. For smaller ones, a quick shake outside is all they need to look brand new. Even if you spill something on it, all you have to do is let the liquid be soaked up by a paper towel, since most stains do not penetrate the thick hide like they would with regular rugs.
Hypoallergenic
For people who suffer from allergies, which rugs can make worse, one of the best options is to turn to a cowhide rug. Because they can be cleaned so easily, you will not get the accumulation of dust and debris that you can get with other rugs. The skin itself tends to also contain less fibers and oils that can cause allergies, allowing you to walk barefoot without experiencing any of the symptoms of annoying allergies.
Natural Look
Another great benefit of cow skin rugs is that they are completely natural and therefore provide a rugged, organic look that can transform a room. They are also beautiful rugs that are completely unique. This is because markings on cows are like fingerprints, so that no one will have your exact rug. For people who love to know they have one-of-a-kind pieces, these rugs are the way to go.
Long-Lasting
A cowhide rug will last much longer than any other kind of rug. They are sturdy and can take a lot of damage before they begin to look ratty. This will end up saving you lots of money, since you will not need to replace the rug as often as you might have to with other options.
These kinds of rugs are definitely something you should consider if you are thinking of getting a rug for any room in your house. They are very versatile, looking as great in a modern space as they do in a rustic one. Because they are long-lasting you will not have to worry about replacing them soon and you can rest easy that they are very easy to keep clean. With a great cow skin rug, your room can look great and you do not have to worry about a tough rug to keep in good shape.